Clothing isn't born in factories. It begins as raw material sourced by real people. Ground to Good™ fabric creates dignified income opportunities for thousands working in the First Mile of a transparent, circular supply chain. And it's made from trash. Here's how.
---
Ground
People in Haiti and Honduras collect bottles from the streets, their neighbors, and yes, even the landfill to trade for cash at a local plastic collection center. Once prepared and bundled, those bottles are piled high on a truck and transported to a recycling facility for processing.
Nadine Phillipe
Collection Center Owner
Self-Employed
Cite Soleil, Haiti
Nadine, a Ramase Lajan collection center owner, is as reliable, motivated, and outspoken as they come. She puts her energy to good use, actively mentoring other business owners in her neighborhood, Cite Soleil.
---
Flake
Workers at each recycling facility unload and grind the bottles to make plastic flakes. Labels and caps are removed to prevent non-PET material from reaching later phases of the supply chain. High-quality flake means superior fabric and ultimately a better livelihood for people in the First Mile.
---
Yarn
Fibers can be spun and texturized to create a more substantial strand of yarn. Innovation in these steps allows recycled content to take the place of traditional materials, without compromising feel or flex.
Spinners
North Carolina

South Carolina
Mitch Hensley
Yarn Sales
National Spinning Co., Inc.
North Carolina, USA
I began my career 20+ years ago working with great folks making yarns and fabrics in NC. I take great pride in finding applications for yarns and providing jobs for the folks who manufacture the yarns in our mills.
---
Fabric
Ground to Good™ yarn can be woven or knit to create unique fabrics and textures. In 2017, Thread will have more than 35 fabrics in a variety of colors and finishes that enable more designers to make an impact.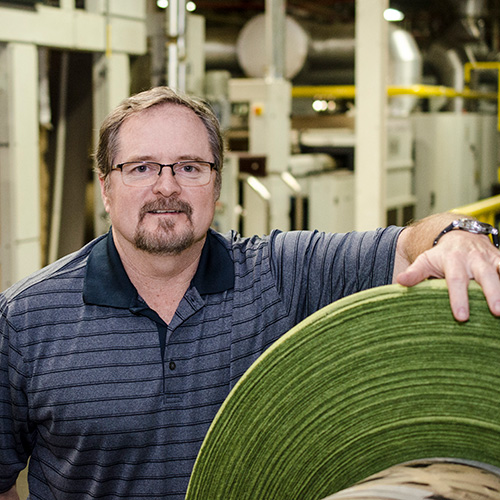 Eric Page
Plant Manager
ITG Burlington
North Carolina, USA
"It is rewarding to develop new and innovative fabrics today in the U.S. using socially responsible materials. Burlington is very proud to be a part of the Thread supply chain."
---
Good
Thread is proud to partner with brands and designers who share our values. They care how their products are made and who makes them. Contact us to use Ground to Good™ materials in your collection.
Cut & Sew Facilities
Haiti

Vietnam

Dominican Republic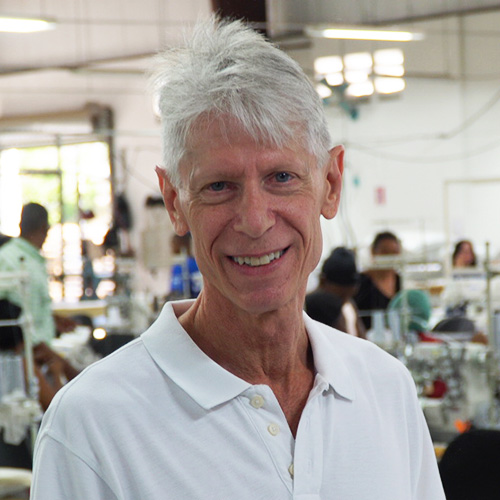 Jeff Blatt
COO
Life SA
Port-Au-Prince, Haiti
Timberland t-shirt, cut & sewn in Port-au-Prince, Haiti.
---